This is the only chocolate cake recipe you need! Skip the box and make my Basic Chocolate Cake recipe. This cake recipe makes a layer cake, a sheet cake, or 24 cupcakes!
I may have called this a basic chocolate cake recipe but it's the BEST ONE! Plus, that fudgy frosting on top is the perfect addition.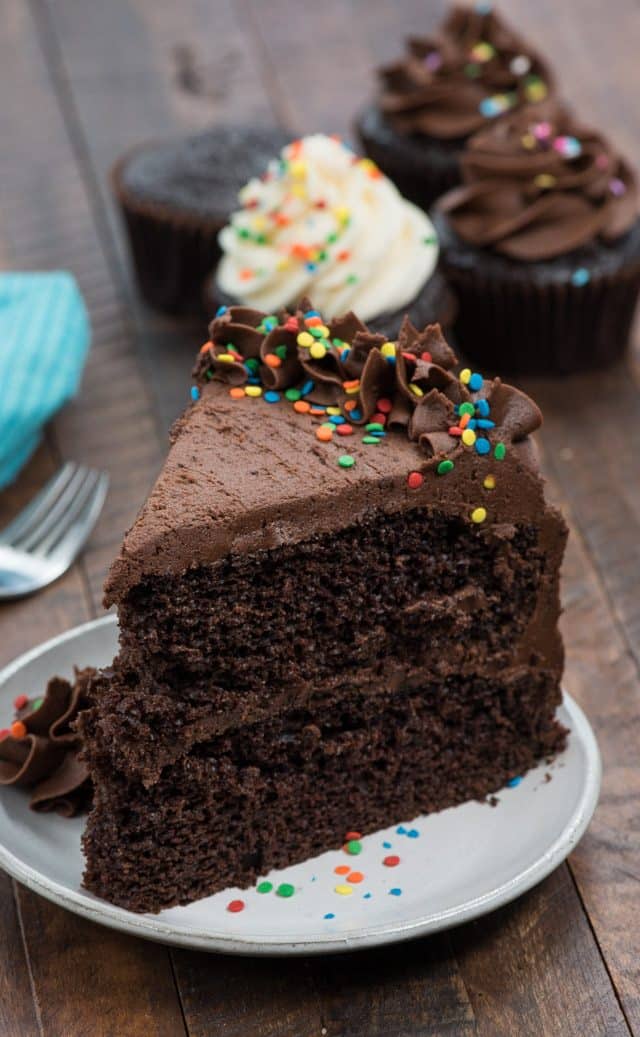 Let's head back to basics with this chocolate cake recipe! I already have a lot of basic recipes on this blog (like yellow cake, sugar cookies, red velvet, etc.) and I'm trying to complete the list. While I already have a chocolate cupcake recipe (which really is the best recipe), I wanted a versatile chocolate cake recipe too.
This easy chocolate cake recipe is actually derived from that chocolate cupcake one, but it's modified to fit in two 9-inch pans. That chocolate cupcake recipe makes over 30 cupcakes and doesn't really fit into a typical layer cake or sheet cake mold, so I wanted something more mainstream for y'all.
WITH THIS CHOCOLATE CAKE RECIPE FOR CAKE AND CUPCAKES, YOU'LL NEVER NEED TO BUY A BOX MIX AGAIN!
Whether you're looking to make a perfect 9-inch layer cake, a 9×13-inch sheet cake, or 24 wonderful cupcakes, this chocolate cake recipe is the only one you need in your arsenal. This cake recipe is great with vanilla frosting or cream cheese frosting, but is perfectly heavenly when paired with the fudgy chocolate frosting in the recipe.