The theory goes that men aren't supposed to like romance. But more and more of them are coming out of their shell to admit that, yes, they want to be wooed from time to time, too. It doesn't have to be big — it just needs to be personal. "The type and nature of the gesture is more important than the size," says Jess Carbino, a sociologist for Tinder. "If it's somehow related to something that they value, that's more impactful."
These 17 things will certainly make him look at you with cheesy heart-eyes — and then maybe consider these strategies to pretty much guarantee you'll get laid tonight.
Changing your outfit.
No, don't put on a nice dress because that's what your man deserves. (We're not stuck in 1953!) But if there's one thing to keep in mind about men, it's that they're visually oriented specimens, says psychologist Ronald Goldstein, PhD, a marriage counselor in Newtown, Pennsylvania. That's why dressing for his tastes — rather than just your own — every once in a while can have a big effect.
When he comments on how great that flannel button-down looks on you, tuck the idea away so you can pair it with skinny jeans and boots for your next date. Or "take him [on a short] shopping [trip] and have him choose outfits he would like to see you in, or some lingerie he finds love," suggests Barbara De Angelis, PhD, author of Secrets About Men Every Woman Should Know. It's not likely they'll be interested in shopping for long, but the fact that he gets to choose something for you could keep him engaged for longer than you might think.
Getting handsy.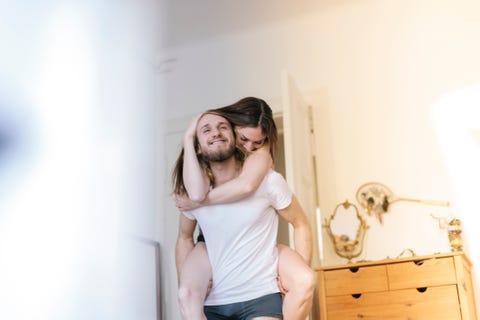 This isn't about love or a massage (though there's nothing wrong with cashing in on both of those), but simply touching and showing physical affection in your day-to-day activities. Holding hands when you walk down the street or playing footsie on the couch are reassuring actions and can remind him that you love and appreciate his body, says De Angelis. And if you decide to explore elsewhere, it can give you time to become more aroused and really get to know every part of him, adds De Angelis.